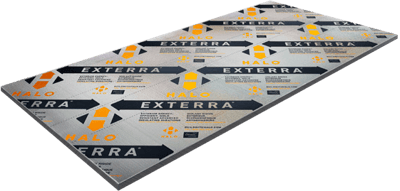 Images are representations only.
HALO® Exterra®
Brand:
Halo®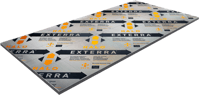 Halo Exterra products are rigid foam sheathing insulation made from BASF Neopor® 5300 Plus GPS (expanded polystyrene containing graphite), which offers up to 18% more R-value than conventional EPS.

Halo Exterra is coated with a reflective and clear laminate that is perforated to maintain breathability. Halo Exterra provides a breathable, waterresistive barrier for building envelopes, while providing continous insulation.

Halo Exterra is breathable up to 2" thick, and acts as a water-resistive barrier (does not require building wrap) for thicknesses of 9/16" or greater.
Features
Provides continuous insulation, which reduces thermal breaks
Increases the R-value of wall assemblies that cannot be achieved with cavity insulation alone
Acts as a water-resistive barrier - eliminates the need for house wrap when the joints are sealed and taped. This reduces air leakage and ensures moisture transmission through the cladding will drain to the outside. A house wrap is not required with Exterra for thicknesses 9/16" or greater
Contains perforations, which allow Exterra to breathe. Because Exterra is breathable, a vapor barrier may be required for the wall assembly. Exterra remains breathable with thicknesses up to 2 inches
Reduces heat gains in warm climates when an air gap is provided between Exterra and the cladding.
9 models matching criteria
Specifications
Board Size
4' x 8' (1,230 mm x 2,460 mm)
Thickness
Standard 0.563" (11 mm), 0.625" (13 mm), 1" (26 mm), 1.5" (38 mm), 2" (52 mm)
Guaranteed R-Value
R-5 per Nominal inch (Based on Thickness of 1-1/16")
Designed to completely seal and insulate exterior above-grade walls in residential, multi-residential, commercial, and industrial buildings, resulting in energy efficient building envelopes.