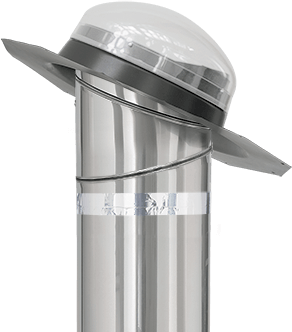 Images are representations only.
Rigid TGR Sun Tunnel
Brand:
VELUX®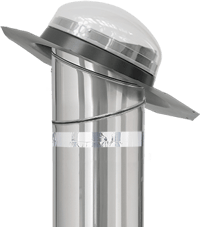 An engineered day lighting system consisting of a field assembly of an exterior frame/roof flashing unit and an interior ceiling ring/diffuser joined by a rigid, reflective tunnel.
Features
Great Source of Natural Light, in spaces where regular skylights are not as practical or where diffuse light is desired
Specifications
Flashings
Flashing is Built On to the Unit
Interior Accessories (Optional)
ZTC 0041 - Residential Energy Kit
ZTB - Decorative Diffuser
ZTP - Daylight Controller
ZZZ 233 - Daylight Controller Power Supply
ZTK - Blackout Shade
ZTL 114 - Light Kit to Use Unit As a Light Source at Night. Uses 23-26W Compact Fluorescent Bulb
Exterior Accessories (Optional)
ZZZ 192 - Exterior Fire Band
ZTZ 209 - Diffusion Enhancer
ZTR - Additional Rigid Tubing Available in 2', 4' and 6' Lengths
Dome
92% Transparent Impact Resistant Acrylic with UV Absorbers or Polycarbonate
Flashing
G90 Galvanized Metal Low Profile Flashing (TGR) Projects 4" Above the Roof Deck and is Available in 10" and 14"
Primary Diffuser
3 mm Frosted Acrylic Diffusion Panel
Diameter 245.5 mm
Secondary Diffuser
1.5 mm Crackle Acrylic Diffusion Panel
Diameter 245.5 mm
Ceiling Ring
White A.B.S. Thermoplastic
Ceiling Ring Gasket
Triple Sealing Flexible Vinyl
Rigid Tubing
98% Reflective
Highly Reflective Silver Coated Aluminum
Rigid Elbows
0.02" Thick
11.5" Tall
45° Rotating Elbows
Tape
2" Wide Aluminum Foil Tape
Screws
1" Screws for Fastening Dome and Lower Reflective Elbow
Dome 010
Thickness 1/8" (3.2 mm)
Height 6-3/16" (156.5 mm)
Outside Diameter 13-7/16" (341.4 mm)
Inside Diameter 12-3/4" (324.8 mm)
Dome 014
Thickness 1/8" (3.2 mm)
Height 6-15/16" (176.5 mm)
Outside Diameter 17-9/16" (446.2 mm)
Inside Diameter 16-7/8" (429.5 mm)
Flashing 10"
TGR 24.74" x 24.74" (628.5 mm x 628.5 mm)
Flashing 14"
TGR 29.00" x 29.00" (736.5 mm x 736.5 mm)
Ceiling Ring Size 010
Inside Diameter 9-7/8" (251.5 mm)
Outside Diameter 12-5/8" (321 mm)
Ceiling Ring Size 014
Inside Diameter 14" (356.5 mm)
Outside Diameter 16-3/4" (426 mm)