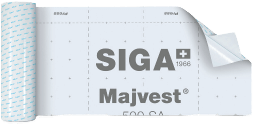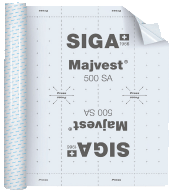 Images are representations only.
Majvest 500 SA
Brand:
SIGA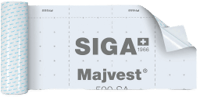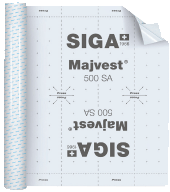 A self-adhering, vapor permeable membrane with the reverse face coated by a pressure-sensitive glue for direct bonding to substrates.

Skip the primer. The Majvest 500 SA sticks to most common building materials, including concrete, plywood, gypsum and metal without primer - even in cold applications.
SIGA Majvest 500 SA (60")
Add-Ons
Wigluv® Sealing Tape 60, Wigluv® Sealing Tape 100, Wigluv® Sealing Tape 150, Squeegee, Dockskin Primer
$976.08
CAD
$30.00 Shipping
SIGA Majvest 500 SA (18")
Add-Ons
Wigluv® Sealing Tape 60, Wigluv® Sealing Tape 100, Wigluv® Sealing Tape 150, Squeegee, Dockskin Primer
$292.80
CAD
$30.00 Shipping
Specifications
Dimensions (Width x Length)
Maximum UV Exposure
6 months (IECC Climate Zones 3-8)
Water Vapor Transmission
16 US perms (ASTM E96 Method A / Dry-Cup)