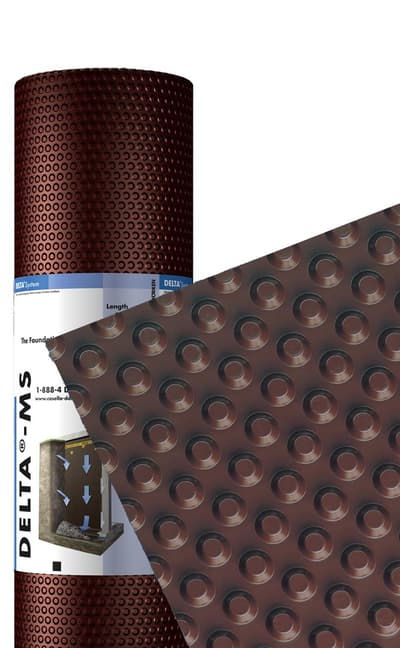 Images are representations only.
DELTA®-MS Below-Grade Dimpled Membrane
Brand:
Delta®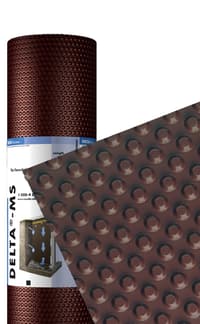 DELTA®-MS is manufactured with an exclusive co-extrusion process, utilizing 60% recycled high density polyethylene (HDPE) from municipal recycling programs in the middle, and two thin layers of a special virgin HDPE on the outside. The encapsulation of the recycled HDPE ensures that DELTA®-MS is protected against degradation caused by oxidation and environmental influences, like acidic soils or alkalinity (concrete).

DELTA®-MS, equipped with highly effective additive packages, provides high compressive strength, impact resistance, and chemical and environmental stress crack resistance.

DELTA®-MS is a dimpled membrane, impermeable to water and water vapor. The dimple pattern creates an air-gap between the membrane and the foundation wall. This allows any incidental water getting past the dimpled membrane to flow freely to the perimeter footing drain. The air-gap provides a safe separation and full capillary break between the foundation wall and any ground moisture.

DELTA®-MS bridges large cracks and imperfections in foundation walls. It can also be utilized as an effective protection layer over spray or sheet applied waterproofing systems. DELTA®-MS is available in many sizes to cover any foundation with a minimum of overlaps and seams. The high compressive strength of the membrane ensures sustainable protection of foundation walls up to 12 ft below grade.
Features
Impermeable to water and water vapor, keeping basements dry
Meets all building code requirements in the USA and Canada
Two lines of defense against water intrusion: dimpled membrane provides capillary break; air-gap allows incidental water to freely drain by gravity
Eliminates interior dampness and musty odors
Reliably bridges foundation cracks and deflects soil moisture, unlike asphaltic sprays
Continues to function even if foundation shifts or cracks
No unpleasant chemical odors or harmful VOCs
Resists damage from backfill, like rocks and debris
Installs in all types of weather
Declare Label: Red List Free
5 models matching criteria
Specifications
Material of Construction
Recycled High-density Polyethylene, Encapsulated Between Two Layers of Special Virgin HDPE
Compressive Strength
Approximately 5,200 psf (250 kN/m²)
Flow Rate / Unit Width at Hydr. Grad. 1, 100 kPa
10.6 gal/min/ft (132 L/min/m)
Flow Rate / Unit Width at Hydr. Grad. 0.1, 100 kPa
3 gal/min/ft (37.5 L/min/m)
Air-Gap Volume Between Dimples
Approximately 0.13 gal/ft² (5.3 l/m²)
Water Penetration Resistance
> 120 psi (815 kPa) Watertight
Vapor Permeance
< 0.3 perms [grains/h/ft²/in Hg]
Temperature Range
-22° to 176° F (-30° to 80° C)
Roll Width / Weight
8' (2.45 m) 63 lbs (28.6 kg)
7' (2.13 m) 55 lbs (24.9 kg)
6' 7" (2.00 m) 51 lbs (23.1 kg)
6' (1.83 m) 47 lbs (21.3 kg)
5' (1.52 m) 41 lbs (18.6 kg)
3' 6" (1.07 m) 28 lbs (12.7 kg)
9' 10" (3.00 m) 77 lbs (34.9 kg)
Service Life Expectancy
> 25 Years (At pH Between 4 and 9, and Temperature Below 77° F / 25° C). Do not Expose to UV Light for More Than 30 Days
DELTA®-MS is installed by unrolling the membrane against the foundation wall. DELTA® Accessories allow for quick and effective fastening of the membrane. The top edge of the product is sealed and protected against intrusion of soil particles and surface water with sealant and specifically designed profiles and fasteners.