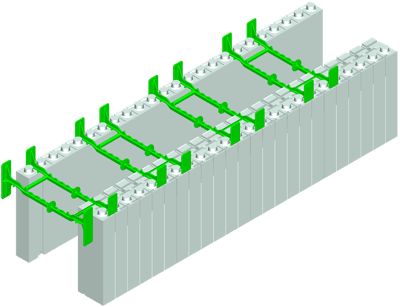 Images are representations only.

Quad-Lock Ties secure the Quad-Lock Panels to form the cavity for the concrete.

Quad-Lock Ties

Lock-in the panels in 4 ways (hence "Quad-Lock"): across the cavity, across butt joints, vertically from one layer to the next, and against shear-forces along horizontal seams.
Serve as an attachment point for bracing and finish materials.
Serve as a locator for reinforcing steel using the ties' molded rebar chairs.
Help to secure corners, T-Walls, etc.
Reduce risk of water migration along ties with a water stop.
Ties are placed at the intersection of the horizontal and vertical joints of all panels and every 12" [305mm] in-between, which are marked by the deeper, wider grooves in the panels.

The ties are placed to align every 12" [305mm] vertically and horizontally in every wall.

Two panels and four ties form one Unit. The ties are recessed from the outside surface of the panels to prevent thermal bridging and the telegraphing of dissimilar materials when finishing with stucco.

Ties are available in six different standard lengths for varying wall widths and are color-coded for easy identification. Ties can be snapped to Extender Ties to add 12" [305mm] to any standard tie length. Multiple Extender Ties can be joined to make even wider cavities. Quad-Lock ties are molded of a tough plastic, High Density Polyethylene (HDPE).
Features
Ensures a uniform concrete thickness throughout the wall.
Prevents the deflection or spreading of all edges of the panels to ensure a smooth, planar surface and prevent blowouts. This is achieved through the placement of the ties at all horizontal AND vertical joints where panels are most vulnerable to hydrostatic pressure during concrete placement.
Provides additional strength at high-pressure areas such as corners, T-walls.
Allows a single tie to be easily modified for specific tasks by cutting the ties into split ties and tie flanges which are used near wall junctions and openings.
Allows unlimited wall cavity size by combining Extender Ties with standard ties.
16 models matching criteria