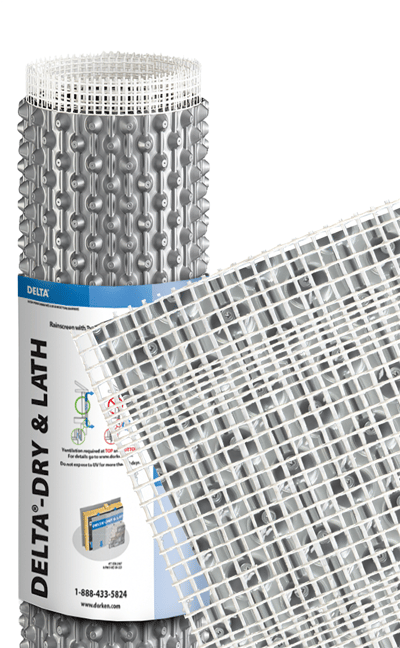 Images are representations only.
DELTA®-Dry & Lathe
Part Number:
DE011DL
Brand:
Delta®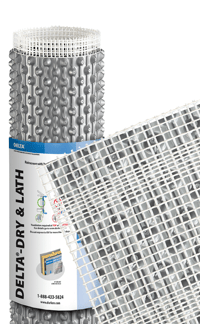 The DELTA®-DRY & LATH is a 2-in-1 product that combines the proven technology of the DELTA®-DRY rainscreen with an innovative fiberglass lath for a complete, one-step moisture control and lath system in one. By combining these two critical components in one, an entire step is eliminated from the construction process.

DELTA®-DRY & LATH completely eliminates the need for a metal lath, providing easier and safer handling for the installer. The alkali-resistant glass is not affected by chemicals and will not corrode.

Solar-driven moisture is stopped before it can do any damage. At the same time, DELTA®-DRY & LATH also allows any incidental moisture from within the wall to dry to the outside.

DELTA®-DRY & LATH is extremely durable and will protect the building from moisture damage well into the future.
Features
DELTA®-DRY & LATH is easy, safe, and quick to install 
The 2-in-1 solution reduces labor costs when used with claddings requiring scratch coat
DELTA®-DRY & LATH has a pre-installed glass lath, which makes it ideal for installing absorptive claddings 
Drainage and ventilation through the air gap on the interior and exterior side of the membrane 
Long-term structural integrity due to a reduced potential for water  
The pre-installed, alkali-resistant glass lath is in compliance with ICC-ES AC 275 (MVMA requirements) 
Meets ASTM E2925-17 (Standard Specification for Manufactured Polymeric Drainage and Ventilation Materials Used to Provide a Rainscreen Function)
Specifications
Material of Construction
High-density Polyethylene
Dimple Height
Approximately 2/5" (10.5 mm)
Compressive Strength
93 kPa (1,946 psf) @ 8 % Strain
Water Penetration Resistance
813 kPa (118 psi) Watertight
Vapor Permeance
0.14 perms [grains/h/ft²/in Hg]
Ventilation/Airflow
1.18 L/s @ 10 Pa, 1.41 L/s @ 10 Pa
Tensile Strength
Minimum 120 lbs, Glass Lath Only
Temperature Range
-30° to 80° C (-22° to 176° F)
Roll Size
L x W: 14 m (46 ft) x 1.0 m (3'-3")
Roll Weight
Approximately 11.8 kg (26 lbs)