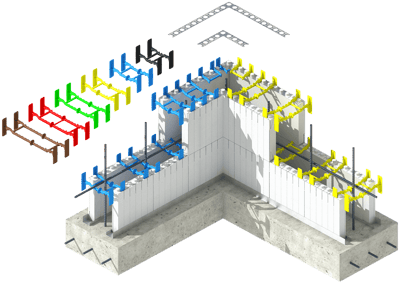 Images are representations only.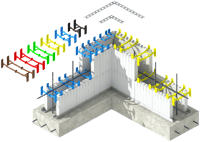 Quad-Lock panels are 48" [1219mm] long, 12" [305mm] high and available in different thicknesses

Regular Panels are 2¼" [57mm] thick and are only recommended for use by experienced Quad-Lock installers.
Ultra Panels are 3⅛" [79mm] thick and about 20% stronger than regular panels with almost 30% more insulation value.
Plus Panels are 4¼" [108mm] thick and have been developed for walls requiring even higher insulation values.
Optional Fastenings Strips ("FS") for Regular and Plus panels provide a continuous anchoring surface for exterior cladding/lapped siding (e.g. vinyl or fiber-cement siding) where needed.

They are 1-½" [38mm] wide strips made of strong ABS plastic, molded into the panels every 12" [305mm]. Located 2" [51mm] to the left of one end and all deep grooves in FS panels, they extend to the panel's surface in small spots for easy identification.

Quad-Lock Ties are locked into the fastening strips to create an uninterrupted vertical fastening surface (no breaks or gaps to complicate siding installation).

FS panels can be used in select locations or on one or both sides of the walls as needed.

Regular FS Panels have the same dimensions as the Regular Panels, but feature the Fastening Strips.
Plus-FS Panels have the same dimensions as the PLUS Panels and also contain the Fastening Strips.
The above panels all have interlocks along their top and bottom with molded slots every 2" [51mm] to interlock panels with Quad-Lock Ties, ensuring every panel will align with precision. Panels are lightly scored every 2" [51mm] to make measuring and cutting easy. Every 12" [305mm] panels have a heavier groove to mark the placement of the ties.

Extra Panels are 4" [102mm] thick and can be added in one or more layers to the inside of Quad-Lock ICF formwork, on the side facing the building exterior.
Quad-Lock panels are made of Expanded Polystyrene (EPS) with a non-HBCD fire retardant. EPS is considered to be world class insulation with qualities that makes it impervious to time and moisture.

EPS is inert and chemically stable and will not emit any gases into living areas under normal use. The R-Values below were calculated per ASTM standards at 75˚F, one of the few methods allowed by advertising laws.

Note that the ASHRAE Handbook allows using higher and more accurate R-Values for EPS, especially under colder conditions, in contrast to some other insulation materials that perform worse than advertised when heating or cooling is actually required.

EPS is quite different from XPS (eXtruded polystyrene) and other insulation products due to its use of air as insulator and inherent long-term (50 years+) stability.
6 models matching criteria