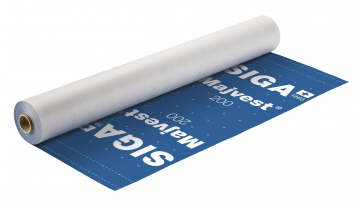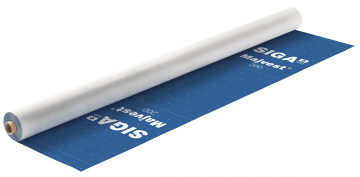 Images are representations only.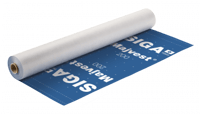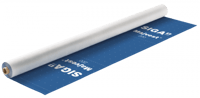 Majvest 200 is a mechanically-fastened, 3-ply membrane designed for above-grade moisture control and air barrier applications.

Its protective polypropylene fleece layers stand up to the toughest jobsite conditions. A highly vapor-permeable, polymeric inner layer does the heavy multi-tasking: resisting harsh wind-driven rain and snow, while still protecting the wall beneath from condensation build-up.
Features
Tear-proof, flexible, 3-layer material resists damage during construction 
Printed cutting, laying, and taping guides reduce installation time 
Fabric-like material is quiet and wind-resistant
SIGA Majvest 200 (3 m)
Add-Ons
Wigluv® Sealing Tape 60, Wigluv® Sealing Tape 100, Wigluv® Sealing Tape 150, Nail Sealing Tape
$642.43
CAD
$30.00 Shipping
SIGA Majvest 200 (18")
Add-Ons
Wigluv® Sealing Tape 60, Wigluv® Sealing Tape 100, Nail Sealing Tape, Wigluv® Sealing Tape 150
$112.40
CAD
$30.00 Shipping
SIGA Majvest 200 (1.5 m)
Add-Ons
Wigluv® Sealing Tape 60, Wigluv® Sealing Tape 100, Wigluv® Sealing Tape 150, Nail Sealing Tape
$321.22
CAD
$30.00 Shipping
Specifications
Weight
Total 136 g/m² / 0.45 oz./ft²
Temprature Resistance
-40° to 176° F (-40° to 80° C)
Tensile Strength
MD 7 N/mm / 40 lbs/in
CD 8.6 N/mm / 49 lbs/in
Breaking Strength
MD 6 N/mm / 34 lbs/in
CD 4.2 N/mm / 24 lbs/in
Water Vapor Transmission
54 (3,095) US Perms (Ng/Pa.m².s)
Pliability
ASTM E2556: Pass, No Cracking
Air Leakage Rate Classification
Flame Spread Index (Rating)