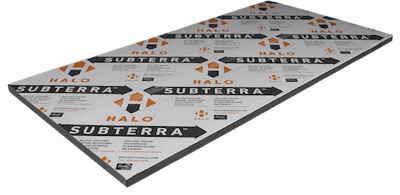 Images are representations only.
HALO® Subterra®
Brand:
Halo®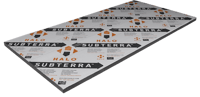 Subterra offers a high-performance GPS core that is laminated on both sides with a thick polypropylene film or an extra-tough cross-woven laminate (Subterra Plus).
Features
Halo® GPS (graphite polystyrene) delivers a long-term 5 per nominal inch (thermal performance claim based on a thickness of 1-1/16")
Available with a thick polypropylene laminate or an extra-tough cross-woven laminate (Subterra® Plus) 
Per the NRC's Radon Diffusion test, Subterra Plus is a radon barrier with 7 times higher radon resistance than 6 mil polyethylene membranes
Continuous GPS insulation creates a thermal break 
Protects waterproofing
Exterior laminate helps drain water away from the foundation wall 
It's job site tough - withstands severe foot and equipment traffic without breaking 
Built-in water-resistive barrier (when taped)
6 models matching criteria
Specifications
Board Size
4' x 8' (1,230 mm x 2,460 mm)
Thickness
Standard 1" (26 mm), 1.5" (38 mm), 2" (52 mm)
Guaranteed R-Value
R-5 per Nominal inch (Based on Thickness of 1-1/16")
Compresive Resistance
16 psi (110 kPa)
30 psi (210 kPa)
Suitable for below-grade applications in residential, multi-residential, commercial, and industrial buildings.