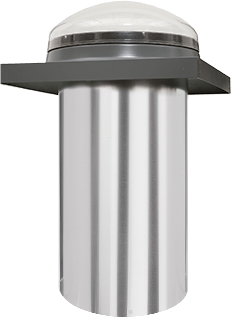 Images are representations only.
Rigid TCC Sun Tunnel
Brand:
VELUX®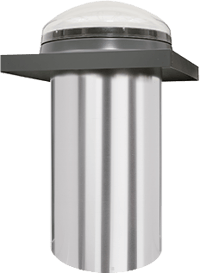 An engineered day lighting system consisting of a field assembly of an exterior roof curb counter flashing unit and an interior diffuser system joined by a rigid, reflective tunnel.

The system is capped with an acrylic or polycarbonate tall dome with Sun Curve (22") or low profile dome (14") and diffuses the light with an interior Round to Square ceiling adaptor with an acrylic diffuser or a round diffuser system.
Specifications
Applications
Counter Flashing - G90 Galvanized Flashing
Counter Flashings
Used with A Site-Built Square Roof Curb (Min. Height 3.5")
Dome
92 % Transparent Impact Resistant Acrylic with UV Absorbers or Polycarbonate
Counter Flashing
G90 Galvanized, 24 ga, Neutral Gray Color
Diffuser Assembly (Rd to Sq)
Available with Fresnel, Prismatic or Frosted Diffuser
92 % Transparent Impact Resistant Acrylic with UV Absorbers or Polycarbonate
Ceiling Ring Gasket
Triple Sealing Flexible Vinyl
Rigid Tubing
Highly Reflective Silver Coated Aluminum, 98 % Reflective
Rigid Elbows
45° Rotating Elbows
15.5" Tall
0.020" Thick
Screws
3/4" Screws for Fastening Dome
Tunnel Clips
Flexi-Loc Clips - for Assembling Tunnels and Elbow Sections
Standard Sizes
14" and 22" Tunnel Diameters
Recommended Tunnel Lengths
Dome Size (014)
Thickness = 1/8" or 3.2 mm
Height = 6-15/16" or 176.5 mm
Outside Diameter = 17-9/16" or 446.2 mm
Inside Diameter = 16-7/8" or 429.5 mm
Dome Size (022)
Thickness = 1/8" or 3.2 mm
Height = 16-5/16" or 415 mm
Outside Diameter = 25-5/8" or 650.2 mm
Inside Diameter = 25" or 633.7 mm
Flashing Size (014)
21" x 21" (534 mm x 534 mm)
Flashing Size (022)
31" x 31" (788 mm x 788 mm)
Ceiling Ring Size
14" Model: Inside Diameter = 356.5 mm, Outside Diameter = 426 mm
22" Model: Inside Diameter 557.5 mm, Outside Diameter = 627 mm
Warranty
10 Years from Purchase Date