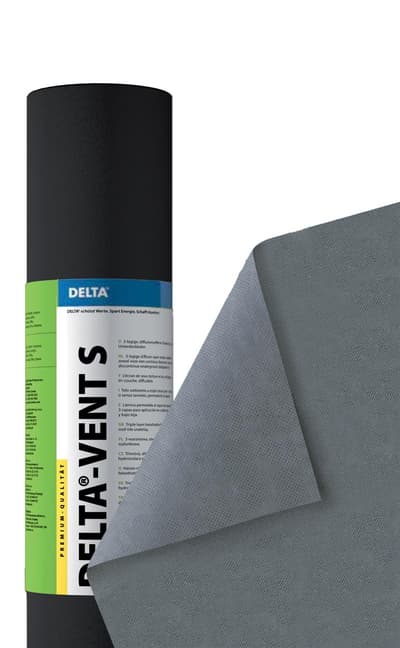 Images are representations only.
DELTA®-Vent S / Plus
Brand:
Delta®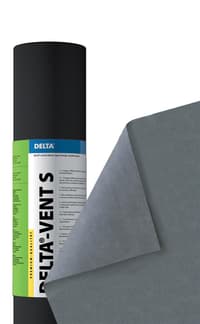 DELTA®-VENT S is a highly vapor permeable WRB, allowing moisture within the building enclosure to escape through the membrane via diffusion. Its high permeability and air-tightness make it an ideal air and water-resistive barrier membrane for energy-efficient construction.

The product is watertight and protects the building enclosure from wind-driven rain. DELTA®-VENT S is very lightweight and tear-resistant. This membrane withstands the rigors of jobsites, as well as tough wind and weather.
Features
Waterproof, resisting the passage of bulk water from wind-driven rain and snow
High permeability – moisture accumulation within the structure is able to escape via diffusion
Maximizes air tightness, making it ideal for energy-efficient construction
Fabric layer on the lower side protects the WRB against damage (e.g. roughly sawn sheathing)
Matte black; prevents blinding glare during installation
Lightweight, easily lined up and unrolled
Large roll size simplifies installation, while minimizing laps and maximizing productivity
Specifications
Water Vapor Transmission
820 g/m²/24 h
472 g/m²/24 h
Vapor Permeance
120 perms [grains/h/ft²/in Hg]
69 perms [grains/h/ft²/in Hg]
Trapezoid Tearing Strength
Water Penetration Resistance
Water Impact Penetration Resistance
Flame Spread
NFPA Class A, UBC Class I
25
Smoke Developed
NFPA Class A, UBC Class I
105
UV Exposure
Pass (> 90 % Tensile Retention After UV Exposure)
Temperature Range
-40° to 176° F (-40° to 80° C)
Roll Weight
Approximately 24 lb (11 kg)
Certifications & Approvals
DELTA®-VENT S is installed outboard of the sheathing prior to the application of the final cladding system. Use DELTA®-LFS 100% silicone for liquid flashing and sealant applications. 

Do not use sealants, flashings, products or chemicals that contain surfactants on DELTA® water-resistive and air barrier membranes because they can adversely affect the water hold-out properties of any PP spunbond-based water-resistive barrier. 

Such products may include asphaltic materials, various chemicals, acid-based silicones, cleaning compounds, and certain formulations of liquid flashings, e.g. specific STP-based materials. Always confirm compatibility with the manufacturer's published technical data sheets and with the manufacturer's technical department. DELTA®Accessories complement the WRB / Air Barrier installation. DELTA®-VENT S is also available in the PLUS version with a self-adhesive edge.