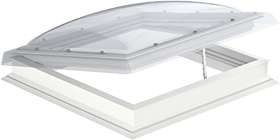 Images are representations only.
CVP Flat Roof Manual Venting Skylight
Brand:
VELUX®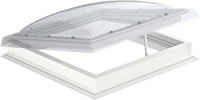 CVP-Flat roof manual venting skylight combines daylight with fresh air. It lets you ventilate when needed and is perfect for offices, clinics, workshops and other environments where daylight and fresh air are required.

The double-glazed units has a laminated inner pane for additional safety. The clear polycarbonate dome is designed to protect the double-glazed unit below from rain and snow.
Features
Mains powered window for flat roofs 
Simple convenient wall switch 
Pre-installed hidden window operator 
Rain sensor ensures that the window closes automatically in case of rain 
Easy installation of mains powered decoration and sun screening products 
Wear-resistant, high quality white PVC frame 
Low energy insulating glass unit 
Protective dome 
Maintenance-free surfaces
Specifications
Inner Glass Pane
2 x 3 mm Laminated Float with Low ε Coating