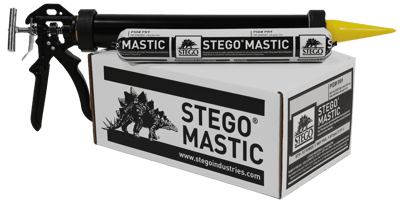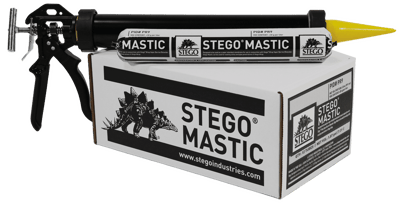 Images are representations only.
STEGO® Mastic Tube, Seal Pipe Penetrations & Terminating Edges, 20-Ounce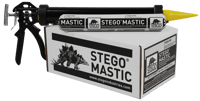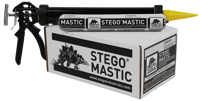 Stego Mastic is designed to be used as a vapor retardant membrane for use in conjunction with Stego® Wrap Vapor Barrier/Retarder. Used for sealing utility and pipe penetrations in Stego Wrap, Stego Mastic Sausage Tube is ideal for vapor barrier repairs and small installations that don't require a full pail of Stego Mastic.

The Stego Mastic Sausage Tubes allow for Stego Mastic to be used with a mastic applicator gun for more precise handling and control. No surplus goes to waste!
Features
Composition: Stego Mastic is a medium viscosity, water-based, polymer-modified anionic bituminous/asphalt emulsion
Additional Product Offerings: 2-Gallon Pail, 5-Gallon Pail
Caulk gun sold separately
Benefits of Stego Mastic 20-Ounce Sausage Tube:

Stego Mastic can be a time-saving aid in achieving an ASTM E1643 installation, the Standard Practice for Selection, Design, Installation, and Inspection of Water Vapor Retarders Used in Contact with Earth or Granual Fill Under Concrete Slabs
Sausage Tube feature allows for Stego Mastic to be used with a mastic applicator gun, for a more precise application 
Quickly seals around penetrations 
When used in conjunction with Stego Wrap Vapor Barriers and Retarders, it can replace the need for boots for pipe penetrations and the use of additional tap