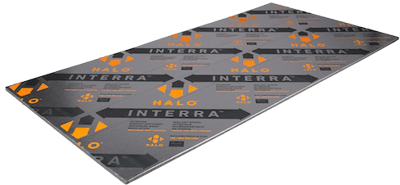 Images are representations only.
HALO® Interra®
Brand:
Halo®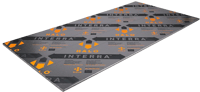 Halo Interra products are rigid foam sheathing insulation made from GPS (graphite infused expanded polystyrene).

Halo Interra is coated with a reflective laminate on both sides of the rigid insulation.

Halo Interra acts as a vapor barrier while providing continous insulation. In addition, when a sealed air gap between the reflective laminate surface and covering is provided an additional boost in R-value is provided.
Features
Halo GPS (graphite polystyrene) delivers a longterm 5 per nominal inch (thermal performance claim based on a thickness of 1-1/16")
Continuous GPS insulation creates a thermal break
Built-in vapor barrier (when an appropriate air space is provided)
Reflective laminate reflects heat back into the home or building
Interra FR is now regionally available and is specially formulated to not require a thermal or ignition barrier (in the USA only) when installed on any interior wall surface
9 models matching criteria
Specifications
Board Size
4' x 8' (1,230 mm x 2,460 mm)
Thickness
Standard 0.625" (13 mm), 1" (26 mm), 1.5" (38 mm), 2" (52 mm)
Guaranteed R-Value
R-5 per Nominal inch (Based on Thickness of 1-1/16")
Suitable for use in residential, multi-residential, commercial, and industrial building
Designed to seal and insulate specific walls, ceilings and floors of a building