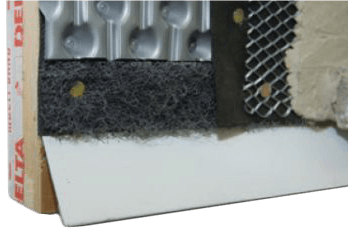 Images are representations only.
DELTA®-Bug Screen
Part Number:
DE011BS
Brand:
Delta®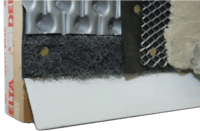 Used in conjunction with DELTA®-DRY, DELTA®-DRY & LATH, and DELTA®-DRY STUCCO & STONE, DELTA®-BUG SCREEN is used to prevent the infiltration of bugs while allowing free movement of air and drainage of bulk water.

Made from durable and strong non-woven polyester matting.

The dimensions are: 5ft x 1.5" x 0.5" (1.5m X 38mm x 12mm). 20 pieces are included per bag.
Features
Insect and pest resistant 
Non-clogging 
Easy one-man installation 
Stabilized against oxidation 
Easy to handle 5 foot strips 
Available in 20 pieces per bag 
Is easily cut with scissors or utility knife 
Suitable for DELTA®-DRY, DELTA®-DRY & LATH and DELTA®-DRY STUCCO & STONE 
Applies with standard roof nails or with cap nails
Specifications
Service Life Expectancy
> 20 Years. Do Not Expose to UV Light for More Than 30 days