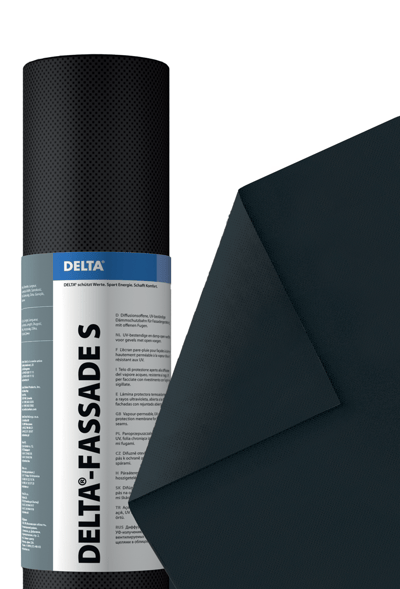 Images are representations only.
DELTA®-Fassade S / Plus
Brand:
Delta®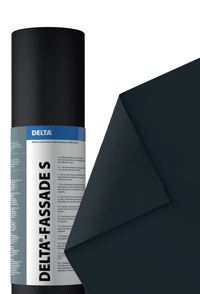 DELTA®-FASSADE S, highly stabilized against damage from UV exposure, is designed for use in cladding systems that have open joints of up to 2" (50 mm) wide which expose up to 40% of the entire facade surface.

It acts as a durable drainage plane, channeling bulk (liquid) water from wind-driven rain and snow to the outside of the structure. The watertight membrane helps protect the building enclosure from damaging effects of moisture infiltration. Its high vapor permeability allows moisture within the cavity to escape swiftly.

DELTA®-FASSADE S is very light-weight and tear-resistant. This membrane withstands the rigors of jobsites, as well as tough wind and weather.
Features
Highest vapor permeability in the industry (over 300 perms), prevents moisture from becoming trapped
Watertight protection prevents moisture damage
Designed for permanent UV exposure in open-joint cladding systems
Durable drainage channels water to outside of structure
Lightweight and tear resistant, making installation fast, easy, and reliable
Versatile system provides flexibility and enhances visual appeal of designs
Improves energy efficiency
Helps to ensure a healthy and comfortable interior climate
DELTA® Commercial Open-Joint Cladding, DELTA®-Fassade S
Add-Ons
DELTA Fassade Tape / Flashing Tape
$1,091.84
CAD
$40.00 Shipping
DELTA® Commercial Open-Joint Cladding, DELTA®-Fassade S Plus
Add-Ons
DELTA Fassade Tape / Flashing Tape
$1,257.00
CAD
$40.00 Shipping
Specifications
Material of Construction
PET Substrate with UV Stable Acrylic Coating
Water Vapor Transmission
2,247.4 g/m²/24 h
1,414.6 g/m²/24 h
Vapor Permeance
328 perms [grains/h/ft²/in Hg]
204 perms [grains/h/ft²/in Hg]
Dry Tensile Strength
CD 28.7 lbs/in
MD 47.4 lbs/in
Fastener Pullthrough Force
Water Penetration Resistance
Water Impact Penetration Resistance
Flame Spread
NFPA Class A, IBC Class A
10
Smoke Developed
NFPA Class A, IBC Class A
145
Temperature Range
-40° to 176° F (-40° to 80° C)
Roll Weight
Approximately 44 lb (20 kg)
Service Life Expectancy
> 25 Years, if Installed Behind Cladding Systems that Have Open Joints of Up to 2" (50 mm) Width Which Expose No More Than 40 % of Entire Façade Surface
DELTA®-FASSADE S is installed outboard of the sheathing prior to the application of the final cladding system. Use DELTA®-LFS 100% silicone for liquid flashing and sealant applications. Do not use sealants, flashings, products or chemicals that contain surfactants on DELTA® water-resistive and air barrier membranes because they can adversely affect the water hold-out properties of any PP spunbond-based water-resistive barrier. Such products may include asphaltic materials, various chemicals, acid-based silicones, cleaning compounds, and certain formulations of liquid flashings, e.g. specific STP-based materials. Always confirm compatibility with the manufacturer's published technical data sheets and with the manufacturer's technical department.