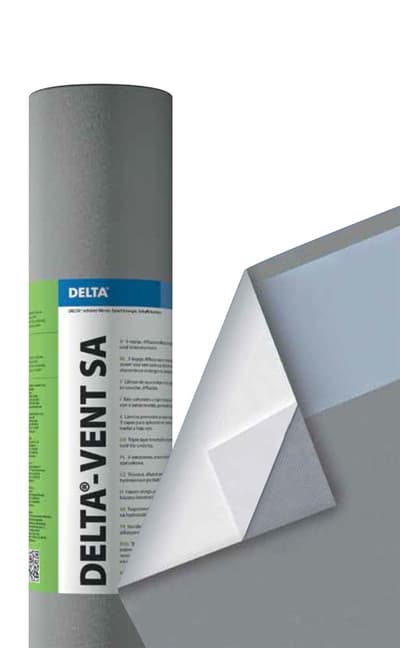 Images are representations only.
DELTA®-Vent SA Vapor Permeable Barrier
Part Number:
DE005VSA
Brand:
Delta®
DELTA® Vapor Permeable Barrier, DELTA®-Vent SA
DELTA®-VENT SA vapor permeable air- and water resistive barrier prevents moisture from getting into buildings.

By also allowing moisture already in to escape, DELTA®-VENT SA eliminates the risk of mold and other problems caused by water pooling where it should not. Its vapor permeability and air tightness makes DELTA®-VENT SA ideal for building and maintaining healthy and comfortable interiors while letting moisture out and improving energy efficiency.

3-layer, self-adhered WRB and air barrier
Outer layers are made of high-strength spun-bonded polypropylene (PP) fabric bonded to a vapor permeable, watertight polymeric middle layer
Full surface coating of high tack aggressive adhesive
Split release liner for easy application
Matte gray color reduces irritating glare during installation
ABAA, Building Code Evaluation ICC-ESR 2932 (AC38), meets most stringent air tightness requirements when tested by ASTM E2357 (Air Barrier Assembly Test), NFPA 285 compliant, Red List Compliant (DECLARE), Health Product Declaration (HPD 2.0) available
Sizes offered: 4' 11" x 115' (1.5 m x 35 m), 9.75 " x 115' (0.25 m x 35 m), 19.5" x 115' (0.5 m x 35 m)
Features
Industry-leading vapor permeability (50 perms), moisture in the building to escape
Improves energy efficiency and performance of building enclosures
Lightweight and durable, standing up for any job site or weather condition
Exclusive self-adhering edge lap
Long-term adhesion eliminates fastener leaks
Simple application helps ensure proper installation
Works flawlessly with DELTA®-HF PRIMER (warm weather applications), DELTA®-ADHESIVE LVC, or DELTA®-ADHESIVE (cold weather applications) where required
Meets all building codes in the USA and Canada
Specifications
Material of Construction
3-ply Polypropylene Membrane with Vapor Permeable Adhesive Coating
Adhesive Coating
Full Surface Coating with Vapor Permeable Pressure-sensitive Adhesive
Vapor Permeance
50 perms [grains/h/ft²/in Hg]
31 perms [grains/h/ft²/in Hg]
Water Vapor Transmission
343 g/m²/24 h
214 g/m²/24 h
Air Leakage of Air Barrier Assemblies
< 0.2 L/(s•m²) @ 75 Pa (0.04 cfm/ft² @ 1.57 lb/ft²)
Breaking Strength
Cross Direction 65.4 lb
Machine Direction 71 lb
Flame Spread
NFPA Class A, IBC Class A
14
Smoke Developed
NFPA Class A, IBC Class A
47
Air Permeance
Pass (< 0.02 l/(s•m²) @ 75 Pa)
Service Temperature
-13° to 176° F (-25° to 80° C) W/O Primer
-40° to 176° F (-40° to 80° C) W / Primer
Roll Weight
Approximately 40 lb (18 kg)
Roll Size
4' 11" (1.5 m) x 115' (35 m)
Maximum UV (sunlight) Exposure
No Polymeric Membrane Should be Exposed to UV (Sunlight) for Longer Than 50 days