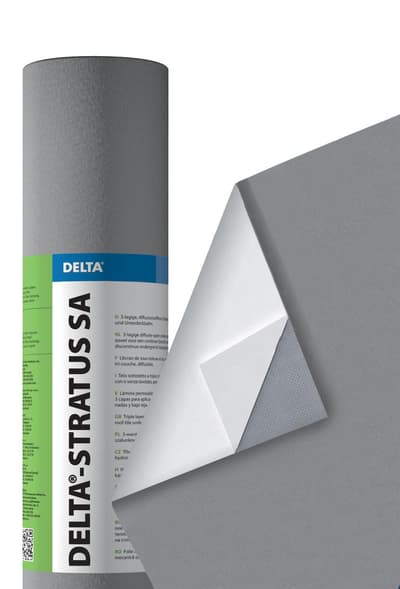 Images are representations only.
DELTA®-Stratus SA Self-Adhered Barrier with UV Protection
Brand:
Delta®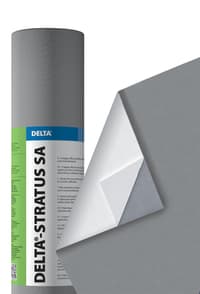 DELTA®-STRATUS SA is engineered with two outer layers of high-strength polypropylene fabric, and a highly vapor-permeable, watertight polymeric middle layer. The fourth layer is an innovative acrylic UV-resistant coating that is proven to provide UV protection currently unheard of in the building industry.

This level of extreme protection means that DELTA®-STRATUS SA is able to provide the weather protection builders need to ensure the long-term integrity of their buildings.

Four-layer, fully self-adhered WRB and air barrier; no fasteners required
Outer layers are made of high-strength spun-bonded polypropylene (PP) fabric bonded to a vapor-permeable, watertight polymeric middle layer
Full surface coating of high-tack aggressive adhesive
Split release liner for easy application
Adheres exceptionally well to itself at laps
Features
Industry-leading UV protection
Industry-leading vapor permeability (50 perms), allowing moisture in the building to escape
Improves energy efficiency and performance of building enclosures
Lightweight, highly durable and tear resistant, standing up to any job site or weather condition
Simple application helps ensure proper installation
Meets all building code regulations in the USA and Canada
Overall occupant comfort and client satisfaction
DE005SSA
DELTA® Self-Adhered Barrier with UV Protection, DELTA®-Stratus SA
Available Add-Ons:
DELTA Multiband, Delta-TW Flashing, DELTA Reflex
$945.46
CAD
$30.00 Shipping
Specifications
Material of Construction
High Strength Spunbond Polypropylene (PP) Fabric/Film Combination with Acrylic Coating
Adhesive Coating
Full Surface Coating with Vapor Permeable Pressure-sensitive Adhesive
Water Vapor Transmission
343 g/m²/24 h
214 g/m²/24 h
Vapor Permeance
50 perms [grains/h/ft²/in Hg]
31 perms [grains/h/ft²/in Hg]
Air Leakage of Air Barrier Assemblies
Class A1
< 0.2 L/(s•m²) @ 75 Pa (0.04 cfm/ft² @ 1.57 lb/ft²)
Air Permeance
< 0.02 l/(s x m²) @ 75 Pa
Water Resistance Hydrostatic Pressure
Pass 60 minute Grade D Building Paper Equivalent
Flame Spread
NFPA Class A, IBC Class A
10
Smoke Developed
NFPA Class A, IBC Class A
90
Service Temperature
-40° to 176° F (-40° to 80° C)
Roll Weight
Approximately 44 lb (20 kg)